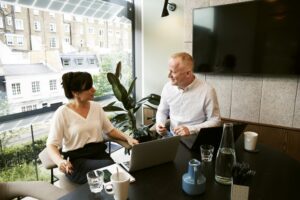 Managed and run by and for local businesses as a powerful voice uniquely positioned at the heart of the local community, East Anglian Business Group seeks to support and represent its members and the whole business community at local and regional level.
We promote the area as a desirable location for business development opportunities and economic prosperity, and aim to provide a regular open forum for the discussion of local business issues.
In consultation with members, the aim of the Chamber is to become the primary representative of business interests within the local district, working in partnership with other like-minded organisations in order to enhance the prosperity of its members and the surrounding region, by:
Securing recognition of the importance of the business community
Enabling business people to network and share ideas
Working with local government and other organisations to achieve change
Representing members' concerns and supporting business activity
Promoting the area and the local economy
To support local businesses and encourage local trading
Creating and promoting goodwill, friendship and unity amongst our members and other traders within the Mid-Essex areas
To bring local businesses together to learn, communicate and encourage
Subscribing to and supporting, by way of affiliation or otherwise, organisations having objectives similar to or allied with those of the Chamber and also such local charitable institutions as may be deemed worthy of support in the furtherance of the objectives of the Chamber
Policy and lobbying
The Witham Chamber of Commerce represents its members' interests to local and central government, MPs, and relevant bodies and contributes to the development of Chamber policy nationally.
The Chamber has regular meetings with our MP and the district's MEPs and it provides opportunities for members to meet with their elected representatives. The Chamber works closely with local councils on issues as varied as planning applications, district plans, business rates consultations, inward investment, transportation, town centres, environmental policies, education and skills. These processes ensure that business interests are safeguarded and promoted at all levels.
We are supported in our representational work by business led advisory and working groups drawn from the businesses around the county and participate in many local and regional partnerships with the single aim of creating the best possible economic environment for Witham's businesses.
We are committed to ensuring that members' concerns are raised with the appropriate person or organisation fulfilling its role as the voice of the business community in Witham. As a business-owned and business-led body, the Chamber is the voice of the business community in Witham at local, regional, national or international level and has the responsibility to lobby and voice business concerns.
Your voice
Through representation of its members on various groups and bodies, Witham Chamber of Commerce acts as the voice for local businesses in Witham and its surrounding areas. We have also formed a Youth Chamber which is designed to help support communication between our young people and local businesses in terms of trade and employment opportunities.
Weekly newletters and monthly bulletins
Our website and email communications keep you informed about local news, member annoucements and Witham Chamber of Commerce events
Business surveys
Witham Chamber of Commerce surveys it's members each quarter to assess the business conditions amongst Witham businesses. The results of each survey are collated and reported in-house to indicate a picture of Witham's economy.
Online business directory
As a member of the East Anglian Business Group, your business is promoted within our Business Directory listing on the website with your own page which can be personlaised to promote your business.
Member to member benefits
Offers and discounts by members for members – Our member offers page will be launching soon.
Networking events and support groups
We will soon be holding monthly networking events and support groups to give members the means to communicate regularly with each other. Meet other local businesses, share their business knowledge and interests, strengthen your current business relationships and establish new ones. Take a look at our forthcoming events.